Conard Learning Center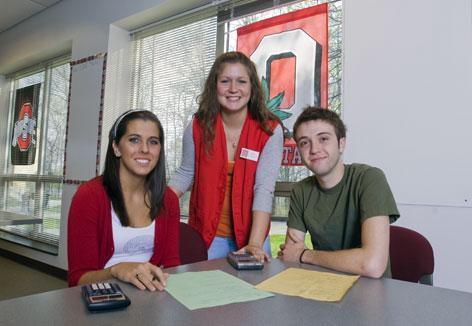 Designed to provide a dynamic learning environment, the Conard Learning Center (CLC) offers students the opportunity to maximize academic performance and success in the classroom. A variety of academic support services and resources are available in the Center. Located in a contemporary addition to Bromfield Library & Information Commons, the CLC offers two floors of resources, services, computers, study labs and classrooms. Students have the ability to access many of the math, writing and statistics tutoring and study skills resources offered by the CLC online. Please visit www.go.osu.edu/CLConline to schedule an in-person or virtual appointment with a tutor, to submit a draft for review by a Writing Consultant, and to access information about the CLC's online services.
The first floor of the Conard Learning Center houses the Math Lab, the Writing Center, and computers to assist students in meeting their educational goals.
The second floor also has three classrooms, one of which is often used for scheduled study sessions for classes beyond mathematics (i.e. Chemistry, Biology, Sociology, etc). A small study room and a meditation room are located on the second floor.
To request assistance with making an appointment with a member of our staff for any subject, please contact the Conard Learning Center reception desk at 419-755-4201 or email Andrew Mueller.
Hours
Autumn and Spring
8:00am – 8:00pm Monday – Thursday
8:00am – 4:00pm Friday
1:00pm – 5:00pm Sunday (virtual only)
Summer Semester Hours
8:00 am – 4:00pm Monday – Friday
Contact
Andrew Mueller, Director
Mueller.147@osu.edu
419-755-4133

Brenna Truax, Coordinator
Truax.46@osu.edu
419-755-4009