CSTW 4150
Cultures of Professional Writing
Credit hours: 3
GEC categories:
Prerequisites: English 110 or 1110 and any version of 367 or 2367
CSTW 4150 is a required course for the 15-credit Professional Writing Minor. CSTW 4191: Internship in Professional Writing (offered SP 2014) is the final required course. See me for help determining which courses you still need, and which courses you have already taken that also count for the Minor.

Text Books:
| | | | |
| --- | --- | --- | --- |
| Title | Author(s) | Publisher | ISBN |
| The Business Writer's Handbook NINTH Ed (readily available used from Amazon and elesewhere) | Alred, Brusaw, & Oliu | Bedford/St. Martin's | 978-0-312-57510-6 |
| Writing for Digital Media (readily available used from Amazon and elesewhere) | Carroll | Routledge | 978-0-415-99201-5 |
Example Syllabus: Syllabus4150Au20131.pdf
Website:
Course Objectives: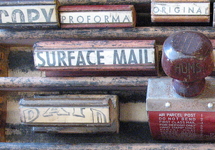 Our goals in CSTW 4150 include developing you as writers of flawless prose, introducing you to numerous opportunities for professional writers in the worlds of work, helping you network and build a professional profile, and giving you real-world experience practicing the principles we will learn in class. This course also pays particular attention to writing technologies and the role of new media in all kinds of professional writing.
We will begin by thinking about professional writing as defined by Tim Peeples: "organizationally situated authorship." We will explore both the creative possibilities and to challenges posed by this definition as it relates to writing in the workplace, and we will apply what we learn to various work world contexts, both print and online.
You will work both individually and collaboratively to
Familiarize yourself with some forms of and outlets for writing common in today's workplaces, with particular emphasis on new media
Understand how composing in new media operates in a variety of workplaces
Enhance your professional writing skills and writing accuracy
Course Content:
Team Project
Online Professional Portfolio
Reading Responses & other blog entries
Language usage & mechanics exercises
Oral Presentation
Final Evaluative Paper
Method of Presentation: Readings, discussion, short language exercises, extended collaborative work on professional portfolios, and a class team project.
Method of Evaluation: Students will be evaluated on the completeness and correctness of their online portfolios and on the quality of their written responses to readings. In addition, team project collaborative work will be assessed through ongoing peer critique. Short quizzes on language exercises will be given as needed.
Course Description Categories Key